Toronto Metropolitan University International College
You are ready for your future and so are we. With our small class sizes and personalized academic support, your hands-on, real-world education awaits at TMUIC.
TMUIC offers foundation and pathway programs to several undergraduate degree programs at Toronto Metropolitan University. The UTP Stage II programs are equivalent to first year of studies at TMU. Upon successful completion of UTP Stage II, students can transfer into the second year of their degree at TMU provided they meet the GPA requirements.
Located in downtown Toronto, TMUIC's campus is at the centre of Canada's cultural and economic heartbeat. There simply isn't a better or more advantageous city in Canada to start your journey to a degree and build your career. TMUIC students have unparalleled access to one-on-one support from staff and faculty, strong and encouraging peer groups and the guidance to find success throughout their journey in Canada.
Immerse yourself today.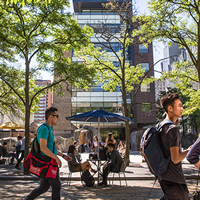 TMUIC Celebrates 1 Year
TMUIC turned 1 in 2022! Hear from our students and staff on their experiences from the inaugural year.
TMUIC Celebrates 1 Year
What Our Students Say
Kush's journey to a degree in Canada started from his home in India to the exciting Downtown Toronto campus of Toronto Metropolitan University. He shares more about why he chose Toronto Metropolitan University International College as his pathway to life in Canada and studies at TMU.